Farmer, Fuqua & Huff, P.C.
2435 N. Central Expressway
Suite 700
Richardson, TX 75080
(214) 473-8000
(214) 473-8007 (Fax)
William T. Huff, CPA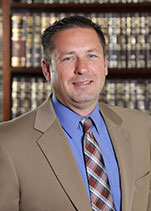 Bill Huff is a graduate of The University of Texas at Austin, where he earned a Bachelor of Business Administration in Accounting in 1991.
Bill's experience spans many industries, including non-profits, construction, real estate, employee benefit plans, oil and gas and manufacturing. Bill also has experience in compliance auditing for various government agencies and has performed audits of publicly held companies. In addition to auditing, Bill has helped clients prepare reports for submission to the Securities Exchange Commission and the Department of Housing and Urban Development.
A member of the AICPA and the TSCPA, Bill is also actively involved in his community.